Some times you face different types of issues in your computer or laptop and get disturbed. It happen because you know the problem but you don't know how to get ride of it. Here I am talking about one common problem which is related to No sound or not working speaker.
Here is what People asks……
I am playing a video in my pc video is working but I can't hear any sound of it.
I am playing same video in my mobile there is sound but I can't hear in computer.
There is no sound in my laptop when I play music in it.
Here is how to Diagnose the exact Problems
If you also have the same question in your problem then you are on right place because I will tell you how to diagnose the exact problem. After diagnosis you will find the exact problem in computer then you have to find the solution for it.
Unmute you sound before the steps below
Just follow the steps to diagnose the issue.
Problem and solution NO – 1
If you have laptop, there is two types of output for sound in it. One is inbuilt speaker which is connected on motherboard directly and second is 3.5 mm jack which is for external use for headphone, earphone, home theater or many more. If you play music and your inbuilt speaker not working try to connect external headphone or speaker in 3.5 mm jack, If you can hear the sound its men there is problem in your internal speaker. You should replace the speaker or try to connect it properly to work.
Problem and solution NO – 2
If your have same problem as above and you have used external speaker but it is also not working as internal speaker. You should follow the steps to check the device and its driver status. Go to control panel > Device manager, in device manager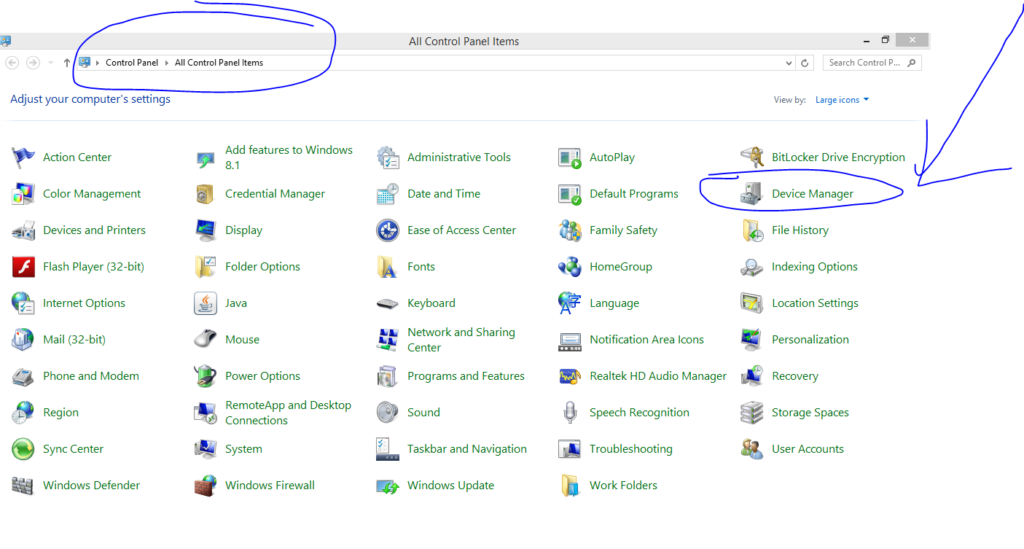 find the Audio inputs and outputs and sound controllers as shown in image.
if your find all this in device manager its mean driver of sound is installed, there may be other problems like your device driver is not compatible with OS or Not up to date, sound driver settings may be changed. So to resolve the problem open the sound driver program to change the setting to default. You will find the sound option in control panel just open and check the settings and apply.
Problem and solution NO – 3
If you find the same problem and you have checked the all problem are exist then your should to check the device driver for error. Sometime your computer sound chip is showing in device manager but having driver error in it. So install the driver software for the sound chip. Or find the computer shop near you get the solutions for it.
If you don't find any error in sound device and all settings are correct. Then your sound IC is faulty and need to replace or your may use external usb Device which can be used to provide external sound 3.5 mm jack, so that you you can use external speakers and headphones.
If your live in Kota Rajastan you may contact HMG IT SOLUTIONS for solutions of this type of problem or your may call them for online solutions for it
NO sound working in Computer